IVF Treatment for Same-Sex Couples
Making shared motherhood a reality
IVF treatment for same-sex couples
with NOW-fertility
For many same-sex couples dreaming of starting a family, the road to parenthood is filled with exciting possibilities and new horizons. In recent years, assisted reproductive technologies have paved the way for innovative approaches to family building. NOW-fertility offers IVF treatment for female same-sex couples at our partner clinics in the UK, Spain and USA.
NOW-fertility - Providing optimal support for the best chance of success
How does it work at
NOW-fertility?
Your dedicated team at NOW-fertility are available 24/7 to support you every step of the way. Consultations are carried out virtually at times to suit you.
Your medications are delivered to you at home and monitoring during your IVF cycle arranged close to where you live or work. 
Travel to your chosen clinic is only necessary for a short period of time once you are ready for egg collection.
Your consultant will discuss the different treatment options with you so that you can make a well informed and balanced decision on how you wish to proceed. Your options will be: 
Traditional IVF with Sperm Donation: One partner within the couple undergoes IVF treatment using donor sperm.
Shared Motherhood (ROPA Method): Couples may alternatively opt for shared motherhood, where one partner provides the eggs to be fertilised with donor sperm, and the other carries and gives birth to the child. This approach ensures that both partners have a significant role in the child's creation.
Embryo Donation or Double Donation: If neither partner uses their own eggs, they can choose to undergo treatment with embryos donated by others.
Selecting the right sperm donor is a crucial step in the process. Donors are typically young, healthy men who undergo extensive medical testing and counselling. Couples must decide between an anonymous or known donor and consider various phenotypical traits such as hair colour, eye colour, and height. Understanding the genetic profiles of donors is also essential.
Depending on the chosen country, donors may be anonymous or known. Anonymous and unknown donor sperm is sourced from external licensed and affiliated sperm banks or from a bank within the clinic. Known donors often require more time for testing and gamete quarantine, a precaution to ensure safety. This quarantine period can last up to six months to rule out diseases like HIV or Hepatitis. Genetic counselling and compatibility tests are recommended to minimise the genetic risks.  Your NOW-fertility team will assist you to find the best donor match, guide you through the legal aspects of choosing donors, and coordinate with sperm banks and your chosen clinic. 
We will also provide a consultation with one of our counsellors who will discuss the implications related to undergoing donor treatment. 
Once a donor is selected, couples have a further consultation with their consultant and nurse before beginning their treatment.
Is shared motherhood right for us?
Shared motherhood is a recommended treatment if both partners in a same-sex female relationship wish to actively participate in the creation of their future child. Medical tests at the outset of the IVF journey help ensure that the treatment is suitable for the couple.
Success largely depends on the ovarian reserve of the partner donating the eggs and the uterine health of the partner receiving them, factors assessed during the initial consultation with your NOW-fertility consultant.
Where can we have treatment with NOW-fertility?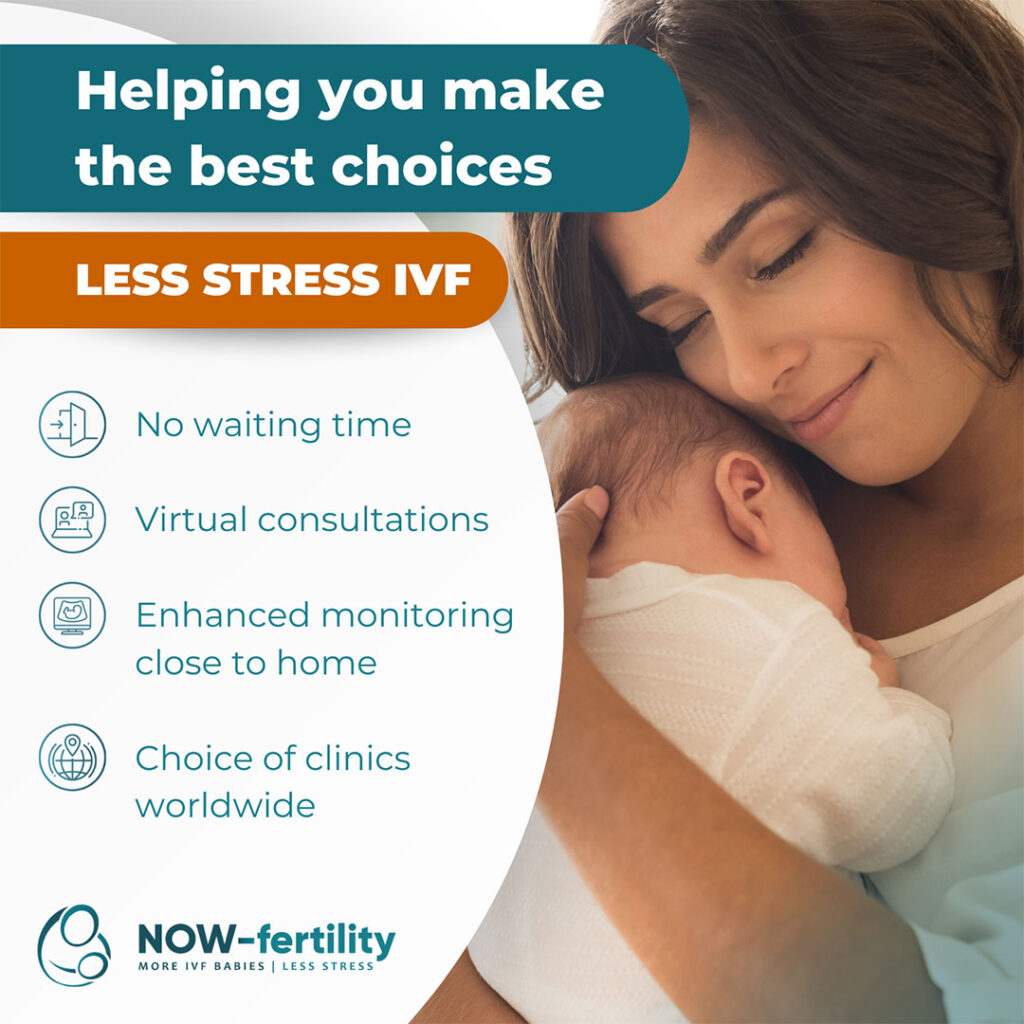 Contact NOW-fertility to learn more about IVF / ICSI
Our care team are available seven days a week to explore your fertility journey and guide you through your options. Submit your details below to contact us.
We provide personal, prompt, accessible, affordable and successful assisted conception treatment, working with a team of experienced clinicians and in partnership with a global network of partner clinics
Book a consultation to begin your journey
Our commitment is to make fertility care accessible, successful and stress free for patients.
If you are ready to start your journey, book a consultation with one of our experienced fertility consultants.