Helping you shape your ideal family
IVF for sex selection with NOW-fertility
NOW-fertility can help you achieve the family that you want with IVF for sex selection, available at our partner clinics in Dubai (UAE), USA, Egypt and Saudi Arabia.
NOW-fertility - Providing optimal support for the best chance of success
How does it work with NOW-fertility?
A dedicated clinical team responsible for sex selection cycles at NOW-fertility is available 24/7 to support you every step of the way. Your consultations are carried out virtually at times to suit you.
Your medications are delivered to you at home and monitoring during your IVF cycle arranged near to where you live or work.
Travel to your chosen clinic is only necessary for a short period of time once you are ready for egg collection:
Fertilisation: The eggs that are collected are fertilised in the laboratory, typically using intracytoplasmic sperm injection (ICSI), to produce embryos.
Embryo biopsy: After 2-5 days, the embryos are biopsied, with a few cells removed from each embryo for genetic testing.
Genetic testing: The biopsy cells are analysed to determine the sex of the embryos, as well as to screen for any genetic abnormalities that you may have agreed with your consultant.
Embryo transfer: Based on the results of the genetic testing, sex-selected embryos are then chosen for transfer and freezing.
It's important to note that while IVF with sex selection is possible, it does not always guarantee to have embryos of the desired sex.
Is sex selection right for me?
Sex selection for medical reasons is used to avoid the birth of a child with a severe genetic disorder. Medical indications include:
To prevent the transmission of sex-linked genetic disorders.
To reduce the chances of having a child affected by a disorder with an unequal sex-incidence.
To decrease transmission of disease to a third generation.
Sex selection for non-medical reasons is used to purposely select embryos of a specific sex for personal or social reasons. Reasons include:
Family balancing when one sex is already represented in the family unit and the other sex is desired.
Families where there are already more than one child of one sex.
Familial or social reasons.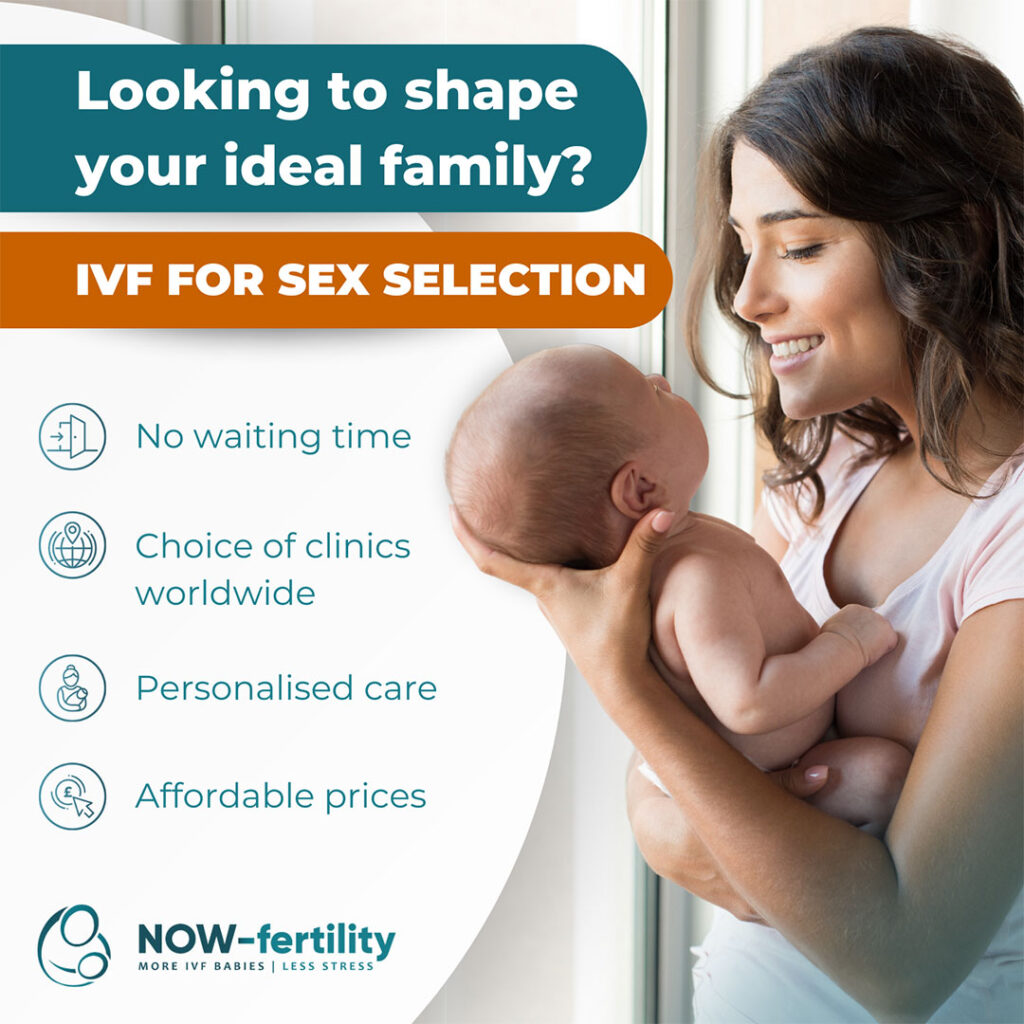 Our fertility consultants Dr Antoine Abu Musa and Dr Nicolas Darazi have established experience in dealing with couples seeking IVF treatment for sex selection for both medical and non-medical reasons.  They work with a supportive team of nurses, care coordinators and counsellors jointly providing tailored fertility care at licensed and state of the art clinics in Dubai (UAE), USA, Egypt and Saudi Arabia.
Contact NOW-fertility to learn more
Our care team are available seven days a week to explore your fertility journey and guide you through your options. Submit your details below to contact us.
We provide personal, prompt, accessible, affordable and successful assisted conception treatment, working with a team of experienced clinicians and in partnership with a global network of partner clinics
Book a consultation to begin your journey
Our commitment is to make fertility care accessible, successful and stress free for patients.
If you are ready to start your journey, book a consultation with one of our experienced fertility consultants.